Mill City Cyclomaniacs

FIVE ADVENTUROUS SEASONS!
Who could have ever predicted that a small group of kids biking to and from Clara Barton Open School in 2008 would lead to our current large group of kids from all over south Minneapolis (and even far-reaching metro suburbs like Minnetonka and White Bear Lake), biking together most every Friday throughout the summer for five straight years? We've taken admirable advantage of our trail systems, explored fabulous new places, eaten our way through many local establishments, made new friends, caught the attention of others, spread the joy of cycling, enjoyed the outdoors, learned that tires do pop, received more smiles than scolds on-trail, taken pride in our distances, and...the list goes on and on.
Thank you to all of you cyclists (you know who you are!), supportive parents, email followers, our website guru, our logo artists, and supportive local businesses. It has been an incredible thrill for me to be a part of this group. As a small token of thanks for the 2009-2013 experiences, I've created this mini-poster for all of us to look back on and reminisce. Enjoy!
(NOTE: I took the JPG file to Linhoff and for $4, they printed a great looking 8.5x11" print!)
Love, Angie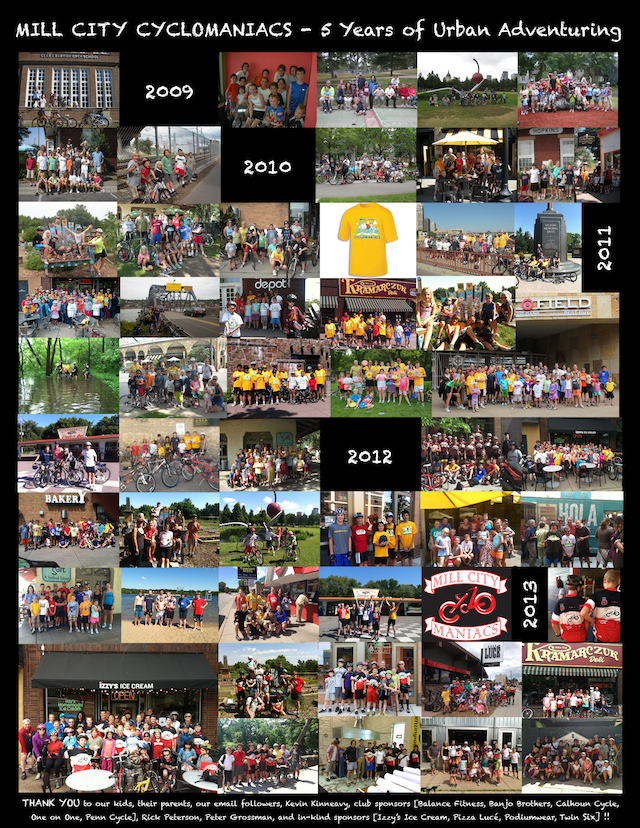 What we Do
A different 16-22 mile route is established for each week, with a fun food destination spot in the middle. Don't think your kid can bike 15, 20 or more miles? Gears (or single-speed road) are highly recommended, but beyond that, you'd be amazed at what most kids can accomplish when they're riding with a pack of friends. They don't whine. They don't fight with siblings. They talk, laugh, earn bragging rights, and get a decent workout to boot!
Rides usually start around 9:00 or 10:00 a.m. and finish by about 2:00 p.m. Most depart from Lake Calhoun or Lake Harriet, with stops made along the way to pick up riders choosing abridged routes. We usually try to set a destination where we can stop for ice cream or a snack and let people catch up and rest before heading back.
The number of riders varies each week with an average of about 25. Some weeks only have 10-15 riders with some weeks creeping closer to 50. Members come from all over South and Southwest Minneapolis, with most of the pedaling kids between the ages of 6 and 13. Parents or other responsible adults are expected to accompany kids on the rides to maintain adequate supervision and safety. Be sure to read our Guidelines for a Safe and Enjoyable Ride.
There's no cost to participate, other than your own wheels and treat money at the destination point.
Hardly a ride goes by where an adult doesn't say, "What a city we live in!" or a kid doesn't say, "This is so cool!" With destinations like the Stone Arch Bridge, Izzy's Ice Cream in St. Paul (via Midtown Greenway), Sea Salt at Minnehaha Falls, the Walker Sculpture Garden/Loring Park, and The Depot coffeehouse in Hopkins, it's no wonder.